About this item
EPOXY KITS include low-viscosity resin and clear, non-blushing hardener for woodworking, boat building, laminating and repair projects. Ideal for clear coating. Simple mix ratio of 2 parts resin to 1 part hardener

NON-BLUSHING EPOXY system means no time-consuming washdowns to remove surface blush between coats, so projects get finished faster. Low odor and low VOCs make it great for shop or indoor use. Cured surface is BPA-free, safer for potential food contact

CHOOSE SLOW, MEDIUM, OR FAST HARDENER to control working properties and cure times. Slow Hardener has the longest working and cure times. Medium Hardener is ideal for most applications. Fast Hardener has the shortest working time and fastest cure

CHOOSE EPOXY KIT SIZE: Pint, Quart, Gallon or 2 Gallon. All TotalBoat Epoxy Kits come with calibrated pumps, mixing sticks and mixing cups. Compatible with epoxy thickeners, fillers and coloring agents

PUMPS INCLUDED: Metered resin and hardener pumps provide the exact 2 parts resin to 1 part hardener ratio for a proper cure every time; easy-to-use pumps are calibrated so all you do is mix ONE full pump of hardener to every ONE full pump of resin
Product Description

It Has a Clear Advantage Over 5:1 Epoxy Systems
The TotalBoat High Performance 2:1 Non-Blushing Epoxy System cures more clear & flexible than 5:1 epoxy systems, making it ideal for laminating, clear coating, and other boat building & repair projects. Its clarity is also perfect for DIY woodworking and craft projects.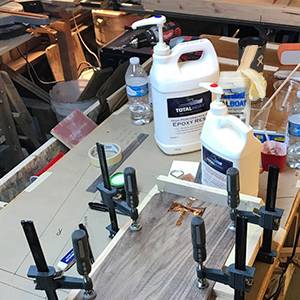 Low odor, low viscosity, simple 2:1 mix ratio, and great results make TotalBoat 2:1 Epoxy the choice of beginners and professionals.
TotalBoat High Performance 2:1 Epoxy Kits are packaged so you'll have enough resin and hardener for your project—at the best value.
This premium high-performance, non-blushing 2:1 epoxy system has a naturally clear, level, glossy finish when cured. Its low viscosity is great for coating, hand layups, laminating & vacuum bagging. You can also add fillers for a high-strength, structural adhesive, filleting material, gap filling paste, or fairing compound. Slow, Medium, or Fast hardener speeds let you get just the right amount of working time. For example, for large projects or complicated glue-ups use 2:1 Slow Hardener to get more time before the glue sets up. Project-ready kits come in three sizes, ideal for large or small projects. The simple 2 parts resin (Part A) to 1 part hardener (Part B) mix ratio (by volume) makes it easy to get great results every time. Each kit includes calibrated resin and hardener pumps and mixing tools to make things easier. All it takes is ONE PUMP of RESIN to every ONE PUMP OF HARDENER. Or you can measure by weight: Slow & Medium Hardeners – 100A:45B. Fast Hardener – 100A:46B.
Three hardener speeds allow control of working properties and cure times. Choose the TotalBoat 2:1 Kit speed that's right for your project
2:1 Fast Kit:

 Fast hardener provides the fastest cure and the shortest working time at room temperature. Can also cure overnight in low temperatures (minimum 55°F).

2:1 Medium Kit:

 Medium hardener used for the most common applications, or for an overnight cure at room temperature (77°F).

2:1 Slow Kit:

Slow hardener provides extended working & cure time at room temperature, or in warmer conditions.
Frequently Asked Questions
Q: Is this resin food safe?
A: The cured surface is BPA-free, so it's safer for food contact.
Q: Can I tint this resin?
A: Yes. Use epoxy safe materials such as mica powders, universal pigments, alcohol inks & pigment dispersions.
TotalBoat High Performance 2:1 Epoxy System Features
Compare cured strength & clarity to MAS 2:1 Non-Blushing Epoxy & others

Ultra clear, hard finish is ideal for laminating & clear coating projects

Low viscosity easily wets out reinforcement fabrics

Included epoxy resin & hardener pumps are calibrated to measure the exact 2:1 mix ratio for you

Add fillers for a strong structural adhesive, filleting material or fairing compound

QT/GAL Kits include 2:1 Resin & choice of 2:1 Slow, Medium or Fast Hardener. Pint Kit – Slow Only

GAL: 1 Gal. Resin, 1/2 Gal. Hardener. QT:1 Qt Resin, 1 Pt. Hardener. PT: 1 Pt. Res., 1/2 Pt. Hard

TotalBoat 2:1 hardeners can be blended to optimized working and cure times
Versatile 2:1 Clear Non-Blushing Epoxy System is Ideal for Boat Building, Repairs, and Woodworking Projects
Layups and Laminating

Low viscosity provides exceptional thin-film flow and self-leveling properties.

Wets out fiberglass, carbon fiber, & other composite fabrics easily.

Great for vacuum bagging.

Low odor makes it perfect for shop or indoor use.

 

Clear Coating and Sealing

Non-blushing, self-leveling.

Ultra clear, high-gloss finish.

Clarity highlights wood's natural beauty, and carbon fiber's cool texture.

Cured flexibility is especially suitable for wooden boats that flex during use or with changes in temperature and humidity.

 

Gluing, Bonding, Filleting, & Fairing

Superior adhesion.

Flexible cure.

100% waterproof.

Bonds readily with fiberglass and other reinforcement fabrics, wood, aluminum, steel, and lead.

 

Gap, Void, Knot, & Crack Filling

Strong cohesion.

Stabilizes spalted woods.

Ideal for filling gaps to create a smooth surface.

Compatible with epoxy pigments.

Great for epoxy river tables and other woodworking projects.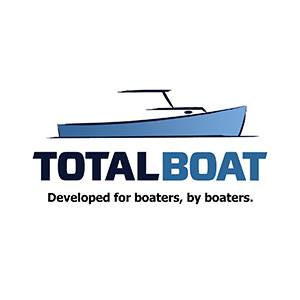 It all started simply enough. As boaters, we wanted better stuff for our own boats.
Even our favorite products, the ones we'd come to rely on, had room for improvement. It'd be nice if they could hold up longer, cure faster, coat better, apply easier, and—since we all know boat ownership creates a mini maelstrom in your pocket—cost less. So we took everything we knew from 35 years of customer feedback, combined that with our own boating knowledge, and after a few years of rigorous R&D, TotalBoat was born. After decades working with local builders, makers, and DIY-ers, our innovative marine-grade products are used in thousands of applications.
| | |
| --- | --- |
| Compatible Material | ‎Wood, Fiberglass |
| Color | ‎Clear |
| Brand | ‎TotalBoat |
| Package Information | ‎Bottle |
| Item Volume | ‎2 Gallons |
| Item Package Quantity | ‎1 |
| Manufacturer | ‎TotalBoat |
| Item Weight | ‎30.5 pounds |
| Package Dimensions | ‎14.5 x 14.5 x 10 inches |
| Country of Origin | ‎USA |
| Is Discontinued By Manufacturer | ‎No |